Old Games 2
Atari 770 XAX, Pages 1 & 2
These two pages mostly deal with the peripherals that come with the Atari 770 XAX: A power supply, a joystick, a joypad (Which is actually a twin joystick), a printer, a disk drive (Which was initially a cassette player, but I used a black pen to make it look like there was a disk in it. I didn't really know what disks looked like), an Atari T-Shirt, two paddle controllers, another joystick, some stickers, a tape box, two books and a keyboard with only 10 keys because I couldn't be bothered drawing them all. The games, from left to right, are Strong Man, Tarzan, Scrape, Atari Master, Moon Watcher, Space Roundly and Greedy Catapillers. Tarzan looks kind of cold, and I think the name Space Roundly was suggested by my friend Steven.
Atari 770 XAX, Pages 3 & 4
Several 770 XAX games came with action figures of the main characters. Robocop is pretty self-explanatory (Although I imagine I drew this before playing the Atari ST Robocop game). Dax seems to be based on Diamonds on the Atari 800, which was in turn inspired by Dig-Dug. I don't really know what's going on in Trytron, but it, and Palt, appear to be side-scrolling shoot-'em-ups. Castle Doom is probably another clone of Adventure. On the second page are two larger games, with Stop! being equally as important a franchise as Star Wars. The second screenshot of Star Wars features someone, presumably Luke Skywalker, in his underwear. I never saw Star Wars as a kid.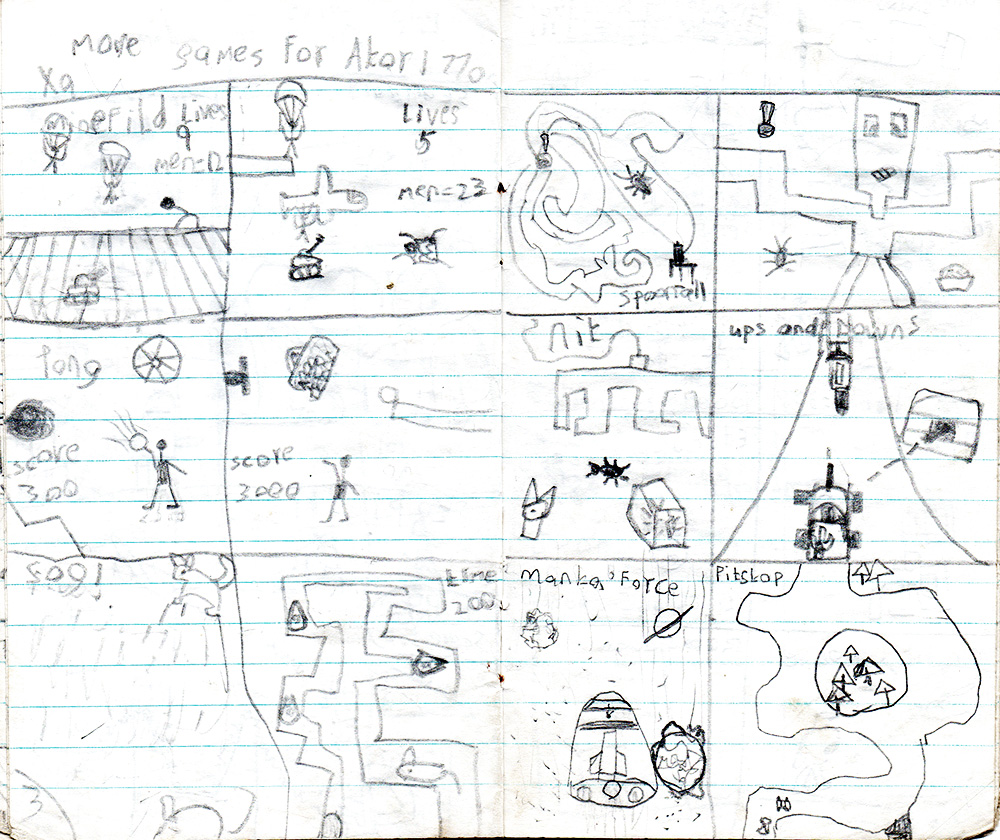 Atari 770 XAX, Pages 5 & 6
Minefild (sic) seems to put you in charge of a tank shooting down parachuting soldiers. The fact that Pong already existed didn't stop me from using the name for one of my own games. It looks like the aim of the game was to throw a ball at certain targets. Sog! has you controlling a mouse over two screens, one in which a cat precipitates on you, and another which is a maze full of cheese. Spoon-All also has a maze, but puts you in charge of a spoon. Or an insect, I can't remember which. In Nit you play as a wide robot that produces wool from the top of its head. Ups and Downs was based on a screenshot of Roadblasters that I saw, but the name itself was a corruption of Up'n Down, neither of which I had played. Manta Force is based on some toys I had, and Pitstop is a top-down racing game.
Atari 770 XAX, Pages 7 & 8
On the left page are: Dinosaurs, which was almost certainly inspired by Prehistoric Isle in 1930). Rundown, which has some pretty weird feet. The reason you can't read the title very well is because there are power-ups at the top of the screen, probably taken from Transmuter. Food Fight is just a drawing of a game that existed, but which I never played. Spot On is a join-the-dots game with the cursor from Eastern Front 1941 for the Atari 800. Nit 2 doesn't seem to add much to the original. Educate was there because I just assumed every home computer needed educational software of some sort. Mighty Mouse is based on a cartoon, and I can only apologise for Robo-Cock. On the right page are Boxing, Flight Power, and Zapp!, the latter of which also featured a similar power-up system to Transmuter.
Sky-Diver
Inspired by the fact that my dad made cassette covers for the albums he recorded, I also made cassette covers for some of the games I made up. The instructions for Sky-Diver read: "How to play. Land your Sky-Divers on the moving landing pads. Try to avoid birds and rocks. The man will now jump off the pad. Press fire to release parachute. Hints: If you land on a bird you will go werever it goes. If a rock or a bird hits you, you will lose a live. Good luck! Loading: Switch computer on and hold down Start & Option then press Return."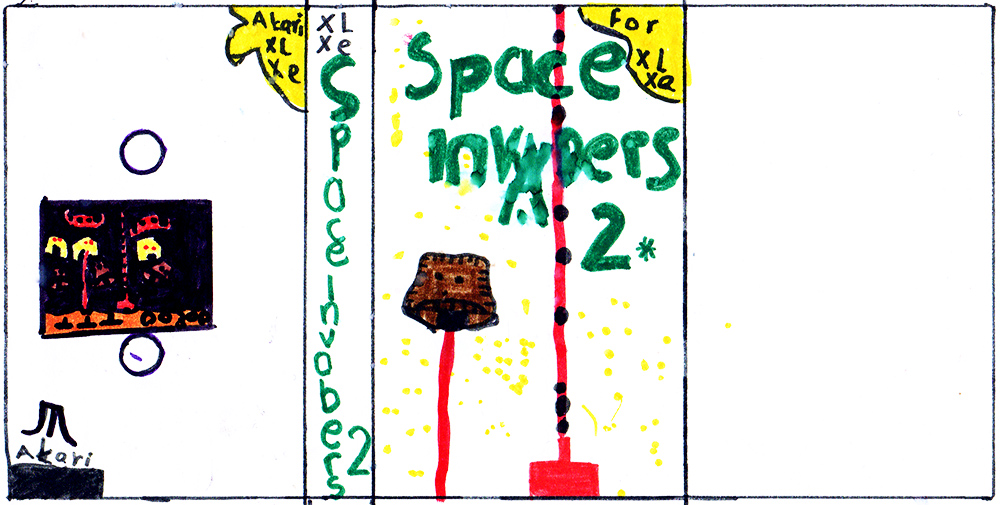 Space Invabers 2
I didn't get around to writing any description for this one. It doesn't look like a particularly inspired sequel. I also remember making a cover for a game called Long Shot, which was a Space Invaders clone where the shots you fired were about twice as long. I like how I've called this Space Invabers 2 on the spine.
Page of Games 1
Crab Atack (sic) has 4 different zones: Sea, Tree, Swamp and Forest (The four areas where crabs are most commonly found). Iorn Maiden (sic) seems to involve punching a mask. I remember being disbelieving when I discovered how 'iron' was spelled. I'm not sure whether I drew this before I found out, or drew it after and was in denial. Capcutter is one of my more straightforward ideas; although the bird flying away from the scissors with a cap on its back poses some questions. Look! is completely bewildering to me; an astronaut, a watch, and a platform from Chuckie Egg. Rally-Way combines top-down racing with a side-scrolling view. Seedy involves dropping seeds from a space ship. Shooting Stars is a weak joke, portrayed very literally. Run! sees you running away from lions.
Page of Games 2
I expanded on the Seedy concept a lot on this page. Whereas Level 1 just saw you planting seeds with a spaceship, Level 2 offers a choice of 3 doors, next to what looks like a demon on a throne. Behind each of the doors are three pretty varied levels. I kind of want to make this game, although most of the drawings are indistinct enough that I'd have to take a number of liberties with the concept. Beloms is based on a mini-game from Grand Monster Slam, which I hadn't played at the time, but saw in a magazine. Battle of the Beloms takes the idea of that game, and goes nuts with it. Monster Mash is just a bunch of stupid crap I drew, and Smoker carries a serious message. That's a sumo wrestler on the right side of the screen.
Remakes
All of these are remakes of previous drawings. The Troll actually features a troll this time, although it still has two doors, one closed and one open. I'm impressed at the effort I put into Big Trouble in Little China, compared to the half-assed effort I made of it before. Space Maze gets a name, a player character in the form of a green blob with arms, and a fourth level (Albeit a rather empty one). Spy Fight is basically just Spy Hunter on foot. Beloms and Look! get remade, neither of them particularly benefiting from the addition of colour. I'm disappointed that I never finished Level 2 of Look!
LCD Mad Max
A handheld LCD games console, probably more along the lines of the Gameboy than Game & Watch, judging by the complexity of Mad Max. The game itself probably had nothing to do with Mel Gibson film, I just thought it sounded cool, and made a typical flip-screen platformer with the name.
9 Games
These were on the page after the previous LCD game, but I'm not sure if they were intended as games for it. Fancy Paper Colector (sic) and Hello Again were both remakes of two of my sister's games (More on those in the next post). Vanguard and Space Invaders 2 both put you in charge of ships that take up most of the screen, so I'm not sure what I envisioned the gameplay as being. Jam is just a title screen. Jelly Busters was a play on Ghostbusters, but with jellyfish. Jet Fighter looks like Combat for the Atari 2600, but with a ground. Indy 500 is racing game with two very spiky walls on either side of the car. Space Race looks like it may have been inspired by Rescue on Fractalus.
Super Chick
This is Super Chick. Every animal should have a shot at being a superhero. "4 chick. 2 brown Hens" is my favourite thing about this drawing.
Micro Machines
Most of the Micro Machines I had as a kid were cheap knock-offs. I had a fuel station play set. I guess my idea for this game was just that you drive around visiting various buildings. I enjoy how quickly I gave up on colouring the road.
Car Stunts
No name for this one, but it was almost certainly inspired by ATV Simulator on the C64, which my friend Steven owned. I was kind of obsessed with the idea of driving cars over ramps as a kid.
Fancy Dress Party
I gave up on Fancy Dress Party pretty quickly. It was a bit optimistic of me to label it 'level 1', as if I would ever make a second level. I think the object of the game was to dress fancily, rather than to wear fancy dress.
Alien Attack
Alien Attack is another LCD game, which I never quite finished. I went to the effort of drawing the various LCD sprites, so it was probably a bit later than most of the drawings. This was most likely based on the Tiger Electronics Terminator LCD game.
4 Games
I got a bit creative with colouring techniques here. High-Buster stars a man in very short shorts, like many of my older drawings where I seemed to have trouble drawing any clothing more complicated than underpants. Zarkon is a side-scrolling shooter where you blast your way through scenery. The enemies in Ogles are actually made up of the letters o, g, l, e and s. Pit Warriors is just based on a screenshot of Barbarian 2 I saw.
Trans-Formers
I'm not really sure what to make of this page. Next to all of the drawings I drew close-ups of certain parts of the image. I kind of feel like I wasn't responsible for the first drawing, though. The 'In' and 'Out' signs don't really look like my hand-writing. The top four drawings are seemingly platformers full of insects and ghosts. Trans-Formers was clearly me compensating for the fact that there were no official Transformers games for the Atari 800. The bottom right drawing is of Sky-Diver.
3-D World
I'm guessing these were my ideas for a range of Tomytronic 3D LED games. I was always obsessed with the idea of owning one, but I never did. Neither Brain-Box or Tree-Man lend themselves to the format, however. I guess I liked the idea of the branches of a tree sticking out at you? Race fits better, but I couldn't be bothered elaborating on the idea in any way.
Bank-Raid
I assume the idea in Bank-Raid's first screen is to enter the bank whilst avoiding the policeman, on the right. Once inside, you have to make your way through a maze of false walls, which can be pushed around. You goal appears to be a bomb, as opposed to money? Who knows.
Pen Drawn Games
The first two drawings are of Pole Position and Rally Speedway respectively. Gems features a man in his underpants, and a castle that I think my dad drew (I doubt I could deal with isometric projection at the time. Climber is a platformer with some weird slimy walls. Ugley (sic) has pools of slime and was seemingly an experiment to see how stupid I could make the main character look. Catacoons features an unfortunate typo. My dad drew the background and suggested the name, and I drew the poorly-rendered knight.
Clones
I feel like the top game was inspired by some Atari 2600 game in particular, but I can't remember it. The mothership/tractor beam combo is again reminiscent of Lone Raider for the Atari 800. The bottom drawing is just Asteroids.